After three days of being sick last week (in which I missed the chapter 5 test), I came back this week just in time to start chapter 6. Chapter 6 so far has been mostly annoying, not really hard.

For reasons that I'm sure make sense, we started off with section 6.2. This section was about u substitution with definite and indefinite integrals. It took us three days to get through the section, but it wasn't bad at all. Mostly, doing the same thing over and over and over again was just really tedious, especially once you got the hang of it. There were some difficult problems in which they did their best to trip us up, but they only succeeded a few times (at which point I just waited until someone could help).

Next, we moved on to section 6.1 (yes, I know, out of order). 6.1 was all about slope fields. This section was a

little

trickier. Actually drawing the slope fields isn't hard and can actually be very satisfying, but going in reverse was harder. I mostly struggled with looking at a slope field and figuring out which equation it went with. Once you do a bunch, however, they usually start to repeat themselves, so it gets easier. On Friday, we also did a lab (?)/ exploration (?) where we had to reason through going from the graph of the slope field to the equation. This was pretty helpful, and I think it really helped me to see the relationships between slope fields and their equations. At least now I can reason through them a little better.

So, that was this week. I also had to take the chapter 5 test, which, as I mentioned, I missed from last week; this was a little confusing but overall went okay (I hope).

---

http://comp.uark.edu/~mattclay/Teaching/Spring2013/slopefields.html

Haylee G.

AP Calc student. I write these blogs.
Powered by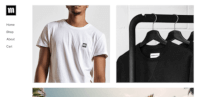 Create your own unique website with customizable templates.