I can never remember what happened in the past week.

Did we start chapter 6 last week? I think so. Actually, yes, we did.

Ahh, that means this week we continued chapter 6, took a quiz over last week and then I missed Friday so hopefully not much else.

We actually started the week with a random exploration thing from section 3.9 because apparently we were moving too fast. It had something to do with e

x

and why it's derivative is e

x

. It was actually pretty interesting since now we really got to see the why behind something starting from a really basic point.

Then we took a 6.1-6.2 quiz, which I thought was pretty easy. The hardest part was remembering how to do the different types of problems- as usual.

We spent Wednesday and Thursday learning section 6.4 which was about… something. Oh yeah it was about "separable differentials". That was an interesting time. It really wasn't so hard, but a few of the problems, get pretty confusing. It also required a lot of random algebra manipulations which was probably the hardest part for me: just getting things to the point where I could take the antiderivative. As usual, though, it gets easier with practice.

I spent Friday at Ohio State and then feeling miserable because college is too dang expensive. The end.

​

Haylee G.

AP Calc student. I write these blogs.
Powered by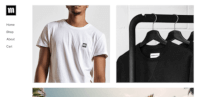 Create your own unique website with customizable templates.