Honestly, I'm having a hard time remembering what we did this week…

Oh yeah, this week we learned about the graphs of derivatives, how to do derivatives with on the calculator, and we started learning about rules of differentiation. I thought that this was all pretty easy.

The only thing I really struggled with this week was the way that some of the questions were worded. When I was doing my homework, I was having a hard time understanding what some of the questions meant, and it was really frustrating. I eventually figured these out, though.

Other than that, I thought that seeing the graph of the derivative and how it related to the function was really cool. It took a few problems for me to see the connection between the two, but once I saw it I realized how much sense it made. If the slope of the tangent line is negative at an x- value, shouldn't the graph of the derivative (which

is

the slope of the tangent) be negative at that x-value? It makes so much sense. I think this week really started to pull things together for me. Instead of just finding a random number or function and calling it the derivative, we were actually looking at the connection between a function and its derivative, and figuring out

why

things are the way they are. This was very satisfying to me since I feel like most of the time in math classes, I don't actually know what is going on or why, I just know how to do what I'm told to do. Examining the reason behind the problems is really nice, and it makes everything make a lot more sense.

We are now moving on to rules of derivatives which I have a feeling might take a while. They haven't gotten difficult yet, but I have a feeling that might happen too. Although, it is nice not to have to write half a page to figure out one derivative.

​

---

http://www.sosmath.com/calculus/diff/der12/der12.html

Haylee G.

AP Calc student. I write these blogs.
Powered by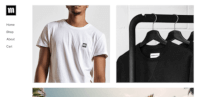 Create your own unique website with customizable templates.