This week marks the beginning of marking period two. Translation: I am 1/6th done with this school year!

But anyways… calculus continues… and so do derivatives. Yay.

This week we learned derivative rules, antiderivatives, and derivatives of trig functions.

Who knew there was so much to learn about derivatives? Plus, from what I've heard, we're not even close to done with them yet!

That's okay though, they still aren't very difficult…

yet…

Actually, this week, they got significantly easier. Taking a derivative no longer requires 5 minutes, 4 steps, and half a page to try to figure out the limit of the difference quotient; now, all I have to do is look at the numbers, do a little bit of multiplication and go. It's so nice. I don't know

why

it works, but I do know how to do it.

Now that think about it, I knew why taking the derivative the long way worked, but I don't know why the new stuff works. I guess it's just a pattern that someone was smart enough to figure out, and boy am I glad they did.

The only thing I really struggled with this week was the quotient rule, and that was mostly just because it is just hard to keep track of and easy to mess up. I just have to remember to pay close attention when I'm doing that kind of problem.

And… that was my week. Check back in next week for what will probably be a continuation of derivatives.

​

---

Haylee G.

AP Calc student. I write these blogs.
Powered by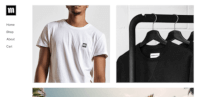 Create your own unique website with customizable templates.