This week, we spent most of our time in AP Calc learning about the "chain rule".

So, yes, we're still doing derivatives. Only, this week, they were a little more confusing.

The chain rule is the rule for finding the derivative of a composite function. If says that (bear with me as I struggle to use mathematical notation on the computer) for a composite function

(f

g)(x)

the derivative is

f'(g(x))

g'(x)

(wow that went a lot smoother than expected). It's a pretty straightforward rule; just take the derivative of the outside, leaving the inside alone, and then multiply that by the derivative of the inside function. However, the problems got pretty complicated when they started involving the product and quotient rules and had multiple composites.

These types of problems required

a lot

of thought. I was able to get through them, but it took me a while. Figuring out where to start was the hardest part. Also, after having spent an entire class period working on a homework assignment my brain was fried. There came a point where the problems just stopped making sense, and I had to take a break.

After learning how to find the derivative of a composite function, of course, we had to learn how to take the

anti

derivative of a composite function. This involved a little something called u substitution, which was also kind of confusing.

So… this week things got a little harder, but I was able to get through everything. I think I understand how to do all of the new material, even if it takes me a while and maybe a few attempts.

Basically, I survived another week… we'll see what's up next week.

`

---

Haylee G.

AP Calc student. I write these blogs.
Powered by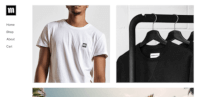 Create your own unique website with customizable templates.