Me trying to do derivatives this week

Don't you just love derivatives?

I know I sure do…

This week we did, that's right... MORE DERIVATIVES!!

So, the chain rule from last week continued on Monday except

so

much harder. We got an extra practice worksheet that was honestly horrible. I thought I was understanding things until I looked at the answer key and realized I was completely wrong. It's just so easy to screw up one little thing that throws off the entire problem. There is so much to keep track of and it's so frustrating! I really struggled with this worksheet, but luckily there were no questions like it on the quiz.

Next, we learned implicit differentiation, which is basically differentiation that involves x and y. It wasn't so bad, a huge relief after the struggle that was the chain rule worksheet.

We then took a quiz over this stuff. I was extremely nervous for it, but I thought it went surprisingly well.

Last, we learned about the derivatives of inverse trig functions. Wild. These were more annoying than hard. They were basically just plug and chug with a few product, quotient, and chain rules thrown in.

The hardest part of this week's material was trying to keep track of every part of a problem. Many of the problems had several parts and several rules all happening at the same time, the sheer number of terms and parts could be a little daunting. I managed to keep track of many of them though (I think…).

Additionally, I'm still waiting for the derivatives to be over. Chapter 3 wraps up next week, but I don't think derivatives will...

​

https://www.gse.harvard.edu/news/uk/16/01/becoming-math-person

Haylee G.

AP Calc student. I write these blogs.
Powered by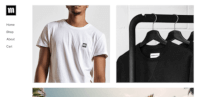 Create your own unique website with customizable templates.