​ I have a friend (I won't mention her name) who has a serious eating disorder. She is getting help for it, but she's still horrifyingly skinny, and I'm worried about it getting worse. For me, it's honestly terrifying to see her like that. She was never ever fat or even chubby, but now she's simply skeletal; just thinking about the extreme hatred towards herself that she must have in order to do what she does to herself is just horrifyingly sad. Unfortunately, she's not alone, not even close. I swear, it's an epidemic. As a society, we constantly tear people down and make them feel incredibly insecure and not good enough, which in turn leads to things like self-hate and eating disorders; it needs to be stopped.
The problem is that society's idea of perfection is not only absolutely ridiculous, but it is also is so deeply ingrained into our minds that we don't even think about it; we see pictures, posters, billboards, magazines, and much more plastered with pictures of unhealthily skinny, highly edited, gorgeous women and that's just what's normal to us. On the outside, we all like to think that these images don't affect us, but deep down they affect most of us more than we care to admit. According to a recent study, over 80% of young women don't like what they see in the mirror, and more girls than not have low self-esteem and consider themselves not good enough in some way. I don't like to admit it, but I can relate.
I used to be full of self-confidence; I could not care less what people thought of me. Besides, I was always thin and athletic and I considered myself to be pretty; which didn't hurt. Recently, however, things have changed. The older I got, the more I was on social media, the more I paid attention to and compared myself to other girls - whether it was just my classmates, celebrities, or models- the more I started to feel insecure and not so great about myself. I know for a fact that I'm even near alone though. My friends and other girls are constantly talking about it, saying how they're not good enough, or they're too fat, or so-and-so's so much prettier and thinner; it's disgusting, yet I'm right there with them. The hardest part is that I know I'm not fat by any stretch of the imagination, and I still don't think I'm ugly, but I still don't feel confident in my own skin. Worse yet, I don't know if I know a single girl that wouldn't change something about their body if they could; if that's not heartbreaking to you, I don't know what is.
Everybody deserves to be confident and happy with their body. Nobody deserves to hate themselves at all, much less hate themselves enough to have an eating disorder or self-harm. It's not going to fix everything, but I feel that as a society and as individuals we need to focus on building up and supporting people and destroying the ridiculous body expectations that society has for young women.
The lack of confidence of young women in society is out of control; the percentage of girls with eating disorders and who straight-up hate themselves are way too high. It's a real problem that won't solve itself overnight, and won't ever fully disappear, but can be lessened and needs to be.



Haylee

I write these things.
Powered by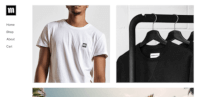 Create your own unique website with customizable templates.