​ This past week's weather has got me super excited; it's finally starting to feel like fall. Key word: finally. Let's be clear, I've been ready for fall to start since mid-August, and I'm not exactly the most patient of people at the moment. Fall is just my absolute favorite season; it's literally so perfect. I love everything about it, from the colors, to the weather, to the beauty of every single thing, to the flavors, to the fashion, to the holidays and pretty much everything in between. Oh man, I just love it.
Like I said, I've been waiting for fall to start since the middle of August. Remember that cold spell we had for like a week? Yeah, well that's what re-kindled my fall addiction. Every year, when that weather starts to turn cold I just get so pumped, I am ready for fall. At first I'm a little bit unhappy though, the coming of fall also means the coming of something that I dislike even more than I like fall, school. However, once I've jumped the hurdle of the beginning of the school year and I've finally accepted that I can't avoid it forever, I'm 10000% ready for fall, and it just can't come fast enough.
The first thing I love about fall is the weather and the nature. While I may not always be the biggest fan of the cold, the weather of fall, especially the early fall, is absolutely perfect. It's so ideal for both snuggling up with warm blankets on the couch all day with some hot cider, or for going out hiking or picking apples or whatever else. Of course, with the cool weather come the changing leaves, which are my favorite thing, especially since I love photography so much. I could spend day after day, hour after hour just walking around, taking pictures of the incredible beauty- which is, by the way, my absolute favorite thing to do. I go on so many more walks and take five times as many photos in the fall than I do in any other season, and I love it. Everything is more beautiful in fall, I swear.
In addition to the splendor of nature that I love so much, every year fall brings back my absolute favorite foods, drinks, and flavors. In my opinion, the only way you can beat pumpkin spice is with apple spice. Fall foods are literally the best foods. I also happen to be an apple fanatic- fresh apples of every kind, apple cider, caramel apples apple spice tea, apple pie, apple flavored literally anything else- ugh, apples are pretty much my life. I think I could live off of apples, and when it's fall I pretty much get to do just that. But let's not forget about the other incredible flavors of fall, pumpkin, for example, yes please. If I can't have apple flavored, pumpkin flavored will work almost as well. That's not it though, there's so much more, like candy corn and other candies and treats, pecans, pears, cinnamon and more, yum. There are so many foods and drinks that are popular in the fall that you can't even buy during the rest of the year. Also, one of my favorite things to do is try out all sorts of different seasonal recipes and fall is one of the, if not the best season for that.
It's not just food either. What about smells? Quite frankly, apple and pumpkin themed scents are just as good as their food counterparts. Just take me into Bath and Body Works or the scented candle section of any store during the fall and give me as much time as I want and I swear I will love you forever (bonus points for actually buying me stuff). Already this year I've gotten my mom super annoyed with me many times because I wouldn't stop smelling the scented candles in the store, oops. Fall scents might actually be one of my favorite things to ever exist, they make me so freaking happy.
Well, I'm not even halfway done with all the things that I love about fall, but I'm already over seven hundred words and don't want this to be too torturously long so I guess I'll have to stop there. Maybe I'll continue on the subject next week (and the week after) since I have so much to say about it, but I won't keep you here forever. So, sorry that this has been really long, I just really love fall a lot and it makes me so happy that it's finally arriving. I hope.




Haylee

I write these things.
Powered by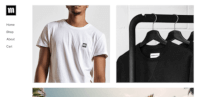 Create your own unique website with customizable templates.