​ I love books. Love them. Reading is one of my favorite pass-times and I don't get to do it often enough. A lot of people don't like reading and don't have an appreciation for books the way I do; I think that's so sad. Books are wonderful things, they inspire you, they teach you, they show you incredible worlds, let you live a thousand lives, they are an incredible escape, and so much more. I literally cannot comprehend why some people don't enjoy reading.
I have always been an avid reader and serious bibliophile; from the time I learned to read, up to this day. Over the years, there have been many stories that have affected me deeply. I know that some people would think it's weird to say this, but it's true and it's not weird at all. Most people could tell you a favorite book if you asked them, or maybe they would say they didn't have one; but for me, that question is like asking me which child is my favorite, or what life I love most. Just a few of the books that I have fallen in love with over the years include- Harry Potter, Percy Jackson/The Heroes of Olympus, Warriors, many John Green books, The Infernal Devices, and most recently, I'll Give You the Sun, as well as many, many more. Honestly, I could go off on quite a long tangent about each and every single one of the books and more, but I'll save you the time.
The thing about every book that I've loved is that they weren't just books to me. They weren't just something I read and moved on from. These books had an effect on who I am. They each emotionally affected me in some way. They aren't just words, they aren't just the tales of made-up people leading made-up lives; it's impossible to describe to someone who has no love for books, but they are so much more than that.
When I was a kid, perhaps my first book addiction was the Warriors series. I'm sure that everyone has heard of these books and has some sort of opinion of them. I've heard so many times how stupid they are and listened to so many people insult them. When I was younger, I would fight tooth and nail with anyone who told me my love was stupid; now, I'll admit, the whole series may not be that great (it's been a few years since I've read it, so I can't confirm) and, yes, it is ridiculously long, but none of that really matters. The point is not that the books were about talking cats, the point was not how high-quality the writing was or was not. The point is was and will remain that I loved these books. I don't think I realized it at the time, but they were my escape from reality, they were something that I could share with my friends and not with the rest of the world (no matter how many people read the books) they made me feel special (it doesn't make sense, but it's true), and I loved them. That's the way it is with books when you're someone like me; that's the way I love my life to be.
Books and reading and stories may not have the same effect on everyone as they do on me, but it doesn't matter and somehow that's all that matters.



Haylee

I write these things.
Powered by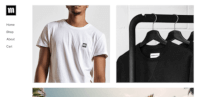 Create your own unique website with customizable templates.