First week of school. First week of Calculus. Yay...

Like pretty much any class, we started out with review this week. Except, when you haven't done math in months, and have erased all math-related knowledge from your brain, review can be a bit of a struggle.

Getting started on my review packet was the hardest part. As soon as I saw what was on the first page, I thought I was screwed for sure. However, once I got working and began to dig up the buried scraps of math skills from years past, and got a little assistance from my peers, I realized I was actually capable of doing

most

of the problems.

Most of my struggles came from algebra manipulations, and remembering how to do things such as trigonometry. With a little assistance, I was able to, for the most part, figure out functions, graphing, triangles, and solving equations again. Although I still have no idea how to figure out whether a graph is concave up or concave down, and there are a few other problems I still don't understand.

Overall, the start of calculus wasn't quite as bad as I was expecting. I am worried about the test that we are going to have over the review packet, though, as I don't really understand (or can't remember) a fair amount of it.

I'm assuming that next week will be the start of learning calculus, so we'll just have to see how that goes.

​

---

Haylee G.

AP Calc student. I write these blogs.
Powered by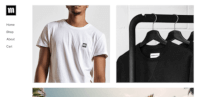 Create your own unique website with customizable templates.