Two weeks ago I said I would continue on the topic of fall in the following weeks, and I couldn't write this last week, so here I am. Currently, I'm really starting to see a shift in the colors of the leaves and every store I walk into is prepped with fall goodies. Hooray! And no; my excitement has not died down, not even a little.

So let's get down to it! Now where did I leave off? Oh yeah fall fashion. Oh man. You have no idea how much I love fall clothing. There's nothing better than putting on an over-sized sweater, a pair of jeans, a scarf and your favorite boots. Trust me on this. Sure, summer clothes are fun and bright and cheery, but to be honest I get sick of shorts and tank tops pretty dang quick; I'd so much rather bundle up in a super comfy sweater or nice warm flannel. I love the color schemes of fall too; give me some clothes in a nice maroon or red or a dark shade of blue or gray over something obnoxious and bright any day. Let's not forget the most important part of fall outfits though, accessories. From scarves, which are basically my favorite thing to ever exist, to cardigans, which may not be considered accessories but I felt I had to mention, to boots, which I also sincerely love, to thick and comfy boot socks and everything in between. Fall clothing is so great because you can change it up in so many ways and basically wear the same base outfit twice, but make it look completely new. Maybe it's just my love of all things fall that gives me this obsession with fall clothes, but I don't care, for some reason or another I'm in love with fall fashion and that's not about to change.

The next thing on my list of topics was actually fall holidays, but I'm not sure that I could even fit a section on fall holidays in this week's post without making it way too long. So, I think that's going to have to be next week's subject. Meanwhile, I'm going to move on to fall activities.

It actually makes me really sad, because school takes up so much of my time, especially in the fall, I don't really have time to enjoy the fall activities; because of this I'm stuck trying to cram as much fall-related into every weekend as I possibly can. It's just so hard! There's so much fun stuff to do. Probably top-priority on my list of fall activities I absolutely must do are nature walks. I love love love going to a place like Deerfield Park or some other forest park and going on long walks, taking pictures every few seconds. Like I mentioned last week, photography is my favorite hobby in any season, but fall is my favorite season to take pictures in. Also on my extensive list of fall activities I feel must get done are apple picking, baking, decorating, pumpkin carving, and more. This year especially I just have this obsession with going apple picking. It makes me super upset that I haven't been able to go yet this year and I'm really hoping I'm able to find the time before its too late. I also just really really want to bake something; as you already know, fall-related foods are my favorite foods and there's just so many delicious things to make, if I ever find the time. Then of course you have your basic fall traditions that are actually a must, like picking out pumpkins and pumpkin carving and watching Halloween-themed moves (even though I cannot handle scary movies at all). There are other things to do too, like haunted houses and football games and wagon rides and so much more that you can only do in the fall. From nature walks to baking and everything I between; fall activities make me super happy. I just wish I had more free time so I could do them all, or at least more of them.

So, I'm at that point once again, not even close to done with saying everything that I want to say about fall, but nearing eight hundred words. Sorry about that. Yes, I do plan to continue next week as well. Sorry about that as well. I'm really, really hoping that this is an acceptable topic, because if not I'm screwed for three weeks of Thursday reflections. That's alright though; fall is what I'm thinking about. It's almost every positive thing I've been thinking about for the past few weeks, and I love it a lot, so I'm writing about it. Until next week, hopefully it keeps looking more and more like fall every day.

​

Haylee

I write these things.
Powered by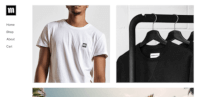 Create your own unique website with customizable templates.